In this step by step SAP tutorial, you will learn how to unlock user using transaction SU01. In some case, you may end up in a situation where some user is locked for various reasons. The user will get the following error during login in the attempt:

User will not be able to log in but another user i.e. system administrator can unlock your user following steps.
Step 1. To unlock user go transaction SU01 (User Maintenance). Put "su01" in the command field and hit Enter:

Step 2. Choose a user name that you want to unlock i.e. "PGRZESKO":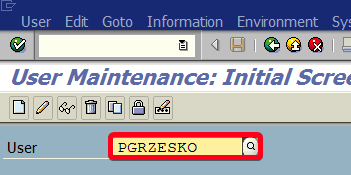 Step 3. Click on Unlock button:
Step 4. In the popup window click on the unlock button:

ll
Now the user is unlocked and will be able to log in again.